By JAN LARSON McLAUGHLIN
BG Independent News
Bowling Green High School seniors spent hours this week customizing their parking spaces with gallons of paint.
This is the first year that seniors have been given the opportunity to paint their parking spots, according to Lauren Tiell, a BGHS English teacher who, along with social studies teacher Baley Nye, runs the Stu Crew organization at the high school. .
"They don't normally get assigned spots," Tiell said as he watched the students apply their artistic skills to the asphalt Thursday. She pitched the idea to the administration after seeing personalized parking spaces at other schools.
"I keep going to schools and they've painted the parking lots," Tiell said.
The Bowling Green administration agreed and seniors were asked to submit their ideas. As of Thursday, 52 seniors submitted sketches for their parking spaces and were approved.
"There were some that were not approved," Tiell added.
"We had a freshman and we said give us three years, 'then try again,' she said.
It was up to the students to supply the paint, sweep the asphalt, seal the spaces and create their artwork.
Several parents, siblings and at least one grandmother pitched in to help personalize the spaces.
On Thursday evening, Kendalyn Robinson was busy painting giant strawberries in her space. She was joined by her mother, Jennifer Robinson.
"I never thought they would allow us to do this. I collect things with strawberries. I really like strawberries," Kendalyn said of her choice to personalize her parking spot.
"She drives a red car," her mother said.
"She hasn't painted them on her car yet," said her father, Gene Robinson, as he watched his daughter put the finishing touches on the berries.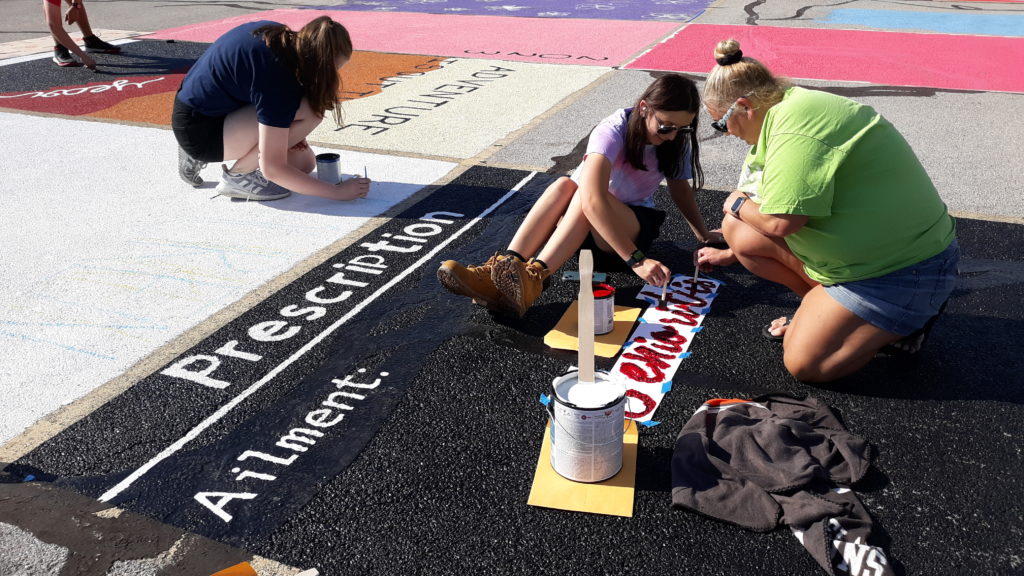 Nearby, Mallory Brotherton and her mother, Michelle Brotherton, were working in a "prescription"-sized parking spot that listed senioritis as an ailment and the cure was Mallory's "bucket list" of graduating and flying an airplane. like aviation. master's degree at Bowling Green State University.
Homemade stencils with her mother's craft cutter made the paint job easier.
"I stopped all that with my 'Cricket' at home," said Michelle.
Senior Chloe Higgins had an idea similar to her own cure for senioritis like sitcoms and snacks – with an expiry date of 2023.
Another site featured a black background with white spots that read "Holy cow, I'm an old man."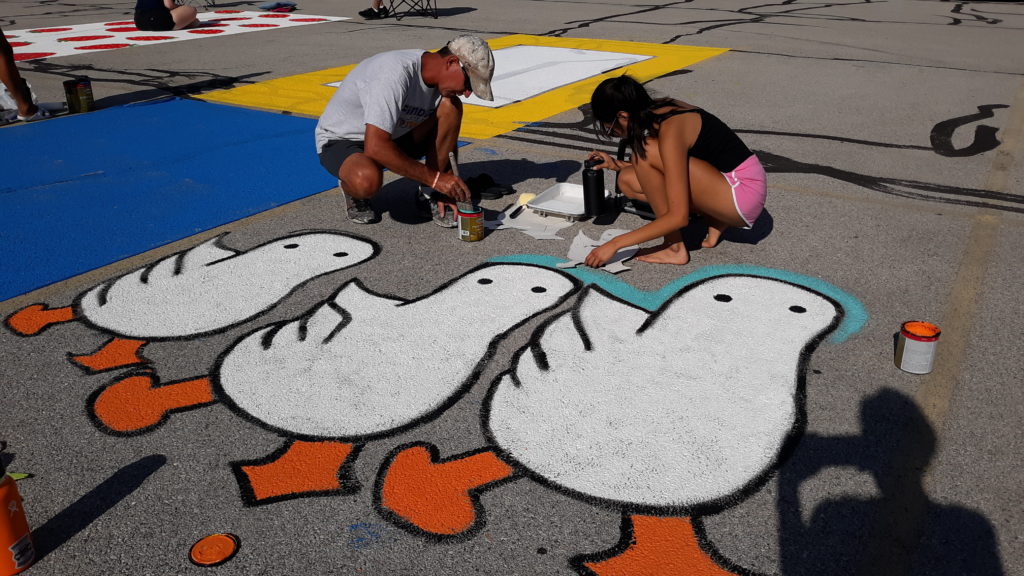 Kate Ruthenberg and her father, Mike Ruthenberg, were busy painting ducks in her parking spot.
"They're my favorite animals," as they look cute on the surface as they row furiously underwater, Kate said.
"Anything to make her happy," her father said as he added blue paint to the asphalt.
Lauren Carmen was in the early stages of her artwork, planning a silhouette of Bigfoot. While the others were carefully hiding the lines and stenciling, Lauren said she would make the wing.
"I'm just going for it," she said.
Zach Dorman's space focused on "Adventure is out there," dedicated to his grandparents and the movie "Up."
"He's always stood over me," he said of his grandfather, who died when Zach was young.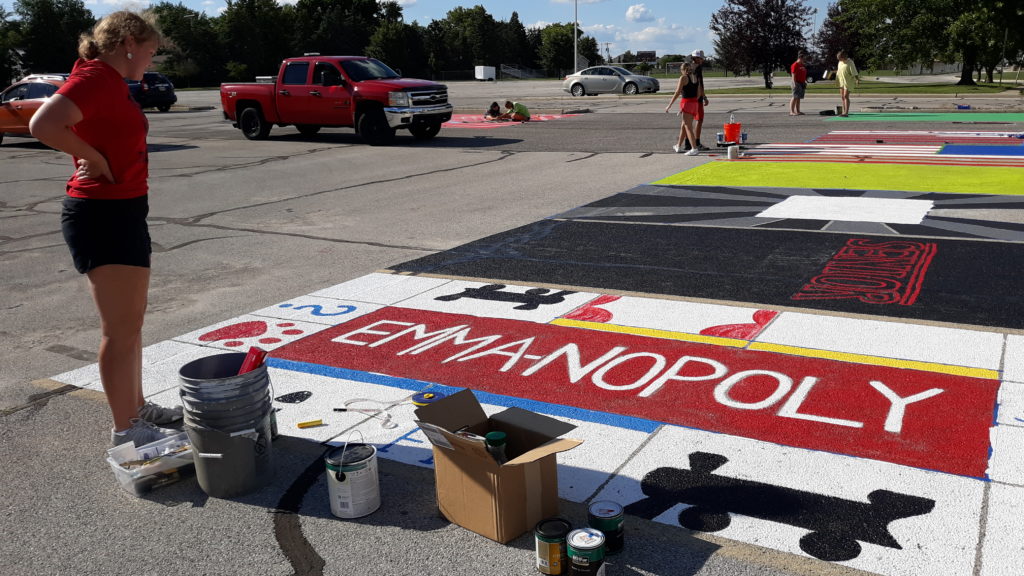 Emma Ferguson created an "Emma-nopoly" sign in her parking spot. The game board spaces highlighted her extracurricular involvement in FFA, dance, drama club and cheer. She was thrilled to be able to customize her space, estimating she spent 10 hours on the project.
"We're always shooting to do something new," she said. "We were all very excited to be guinea pigs."
Tiell was impressed with the finished works, noting that when she was a high school senior, her artistic endeavors were less sophisticated.
"I would have literally painted mine with glitter," she said with a smile.
One parent was particularly impressed by a student who took great care to remove straight lines for an American flag in his parking spot.
"This kid is so good I think I'm going to hire him to paint my house," Rachel Fletcher said.