Fidus Investment Corporation (NASDAQ: FDUS) is a high-quality business development firm with a well-managed investment portfolio and excellent credit ratings.
The BDC invests a large portion of its funds in secured debt, but also holds equity positions for higher profits.
Fidus Investment's dividend payout is covered by net investment income and the stock continues to trade at a discount to net asset value.
A high quality BDC with a unique twist
Fidus Investment serves the lower middle market by providing companies with money to help them grow. While BDCs invest in equity, their primary focus is on first and second liens (the safest type of debt for investment companies).
Fidus Investment generally invests in firms with proven business concepts and a history of debt service: The company seeks companies in the United States with annual revenues of $10 to $150 million and EBITDA of $5 to $30 million. Fidus Investment typically invests in private companies that have limited access to cash and need growth capital from private lenders.
Fidus Investment had $812 million in active portfolio firms as of March 31, 2022. The majority of investments (59.1%) were in first lien debt, with the remaining 24.7% in second lien debt.
The entire percentage of secured debt investments now stands at 83.8%. Additionally, Fidus Investment allocated 7.4% of its assets to subordinated debt and 8.8% to equity. All percentages given here are based on cost.
The portfolio also performs well: at the end of March, only 1.1% (cost) and 0.3% (fair value) of the company's investments were non-accrual.
In terms of industry exposure, Fidus Investment seeks to invest in companies with an established business plan, stable revenues and cash flows and less cyclical exposure to the economy. With 32.1% of the shares, Fidus Investment is the most exposed to the information technology services business.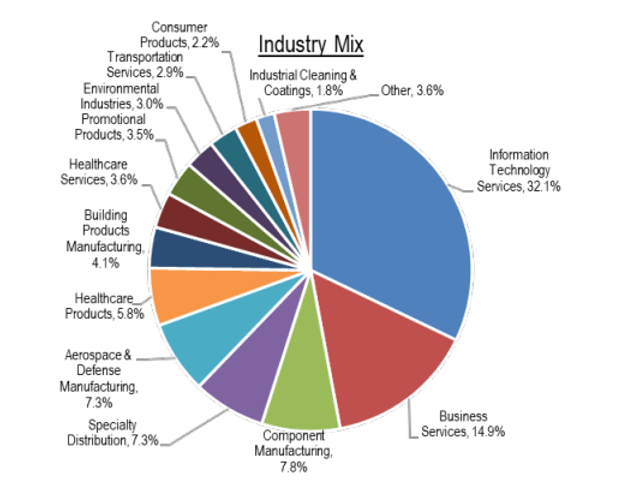 Fidus Investment's portfolio has seen a decade of continuous expansion, resulting in the majority of portfolio investments and the highest ever BDC portfolio fair value as of March 31, 2022. Since the company's inception more than a decade ago, the value of the portfolio has increased 316% based on cost.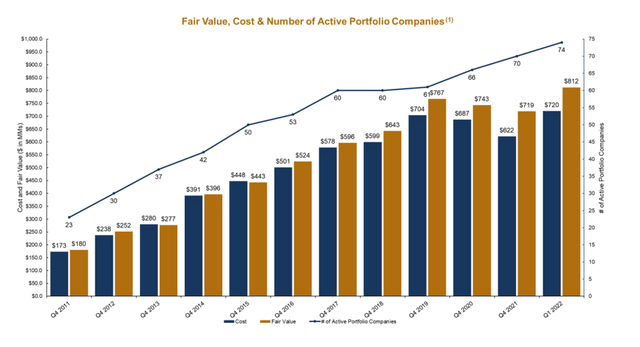 There is a unique twist with Fidus Investment
Despite its debt focus, Fidus Investment has had considerable success with equity transactions over the past decade. Based on fair value, Fidus Investment's equity investments were valued at $161.2 million, accounting for 19.8% of BDC's total portfolio.
Fidus Investing has generated $183.4 million in net realized capital gains since its IPO, demonstrating that the company's equity investment philosophy has paid strong dividends to BDC and its shareholders.

The adjusted NII covers the dividend
Fidus Investment's dividend payment is covered by adjusted net investment income. BDC now pays a basic quarterly dividend of $0.36 per share, but also pays special dividends, resulting in a change in the total dividend payout.
In the trailing twelve months, the company's business development investments generated $1.74 per share in adjusted NII, compared to $1.75 per share in total dividends.
The 1Q-22 payout ratio was 84% ​​based on the basic dividend alone, meaning the current regular payout of $0.36 per share is covered by adjusted NII. The variable dividend varies according to the BDC's investment performance, allowing Fidus Investment to disburse additional income.

The stock has a 7.8% yield based on a basic payout of $0.36 per share ($1.44 per share annually). Because management declares special dividends on a regular basis to distribute excess portfolio income, the effective dividend yield is likely to be significantly greater than this.
Book value multiple
Fidus Investment is currently trading at an 8% discount to net asset value, but the BDC has historically traded at a premium to net asset value. The stock market correction in June, which was driven largely by rising inflation, anticipated higher interest rates and rising recession fears, is to blame for the company's downgrade. Fidus Investment could trade again at a premium to book value if BDC maintains book value growth while keeping benchmarks low.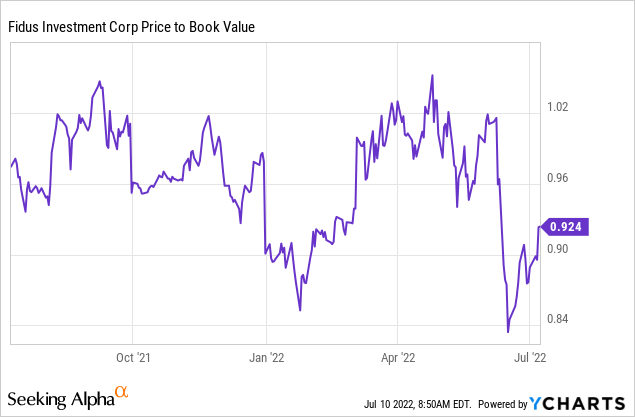 Why Fidus Investment May See a Lower Valuation
Market expectations of future economic growth and the possibility of loan losses in a weaker market drive the valuation of business development organizations.
Fidus Investment's credit quality was strong in the first quarter, but an increase in non-accruals in the coming quarters is likely to raise concerns about the sustainability of BDC's book value. An increase in loan losses and a decrease in book value may allow BDC shares to trade at an ever-increasing discount to net asset value.
My conclusion
Fidus Investment is a top quality business development company with a diversified debt portfolio and a history of strong capital returns that contribute to BDC's total returns.
The equity component of Fidus Investment's portfolio makes the BDC more attractive than more conservative BDCs, but also makes the BDC potentially riskier if the market experiences another downturn.
FDUS is a great stock to earn passive income because it has a high portfolio quality (slightly non-accrual) and the company covers the dividend payment with net investment income.