GREEN BAY, Wis. – Through some effort and bargaining, Green Bay Packers general manager Brian Gutekunst ended up with three of the first 34 picks of the 2022 NFL Draft.
Gutekunst ended up drafting 11 players. Eight of those players made their professional debuts in the preseason loss to the San Francisco 49ers. The result of the game, of course, is completely irrelevant. In the ultimate team sport, the only thing that matters are individual ratings.
"The difference between what you do out there on that practice field and then when the lights come on and there's no coach behind you telling you what's coming and being able to communicate and perform at the same time, I mean, that that's what this game is. ," Gutekunst said this week. "Guys who come up to this league and play for a long time at a high level, they're able to handle that environment and those atmospheres. This will be the first and best test to really see these guys. Whether they have good performances or bad performances, it's what they learn from it and how they carry it into the next two practices and the next game."
So how is Green Bay's 21-man rookie class doing with one preseason game in the books, joint practices against the Saints looming and the 53-man roster looming on Aug. 30? On the heels of our first Rookie Progress Report through the first week of training camp, here's a second look at Green Bay's rookie class.
Round 1: No. 22 – Quay Walker, ILB, Georgia
Some first round picks are put in the starting lineup because they are first round picks. Walker rose to the starting lineup from Day 1 of camp because he earned it. The Packers selected him in hopes that he and All-Pro De'Vondre Campbell would provide a difference-making tandem. Nothing Walker has done has lowered those expectations.
While Walker was a non-factor in 12 snaps Friday night, one play earlier this week stood out. On Wednesday, Jordan Love needed a plug device and found Josiah Deguara alone in the apartment. He had about 7 yards of separation on Walker. By the time Deguara caught the ball and returned to the field, Walker was there and limited the play to a gain of maybe one yard.
Round 1: No. 28 – Devonte Wyatt, DT, Georgia
Wyatt has had a quiet training camp, although his potential "sack" of Jordan Love was one of the highlights of Family Night. With Kenny Clark, Dean Lowry, Jarran Reed and TJ Slaton, the Packers have a formidable front four and can afford to be patient with Wyatt until the fastest 300-pounder at this year's Scouting Combine puts it all together .
Wyatt did not play Friday after being evaluated for a concussion. He's not in concussion protocol, though, and will likely be good to go for practice against the Saints.
Round 2: No. 34 – Christian Watson, WR, North Dakota State
Watson did not practice due to knee surgery after OTAs. This week, he joined the other PUP members doing some field rehabilitation, a good sign that his comeback is progressing.
The Packers sent two second-round picks to the Vikings to move up to select Watson in this year's draft. Of course, with his game-breaking abilities, they would love to see him on the court and contribute in the opener in Minnesota.
"It's a challenge every day to go out there and not take the physical reps and try to stay mentally engaged," coach Matt LaFleur said this week. "But I think he's done a really good job of staying on (receivers coach Jason) Vrable's hip and asking questions the whole time. Hopefully, once we get him out there, it will be a quicker transition for him."
Round 3: No. 92 – Sean Ryan, G, UCLA
Rhyan has been slotted at right guard throughout camp, getting almost all of the second- and third-team reps to help him prepare. So far, he hasn't joined the right tackle battles that include Jake Hanson at right guard, Royce Newman at right guard and right tackle and Zack Tom at right tackle. His muscular lower half was on display with some quality run blocking against the Niners. He looks like a future starter, but how soon?
Round 4: No. 132 – Romeo Doubs, WR, Nevada
No Packers rookie has received more publicity than Doubs, and much of it is deserved. He has made more big plays than any receiver, including a 33-yarder on Friday, and should be a factor from the start of the regular season.
That said, he also threw more passes during training camp than any receiver; well, he has had more opportunities. He had a terrible drop Friday and had a chance on a poorly thrown ball that was intercepted in the second quarter. He went 0-for-2 on contested catches; that wasn't even his strong suit in Nevada. Plus, his blocking wasn't good enough. That could cost him because it's a skill coach Matt LaFleur covets.
Doubs has a chance to be really good. Maybe the game is too fast for him at the moment. With the start of the regular season about four weeks away, there's time to shake it off. They will need it.
Round 4: No. 140 – Zach Tom, OL, Wake Forest
The Packers this week seemed to lean a bit on Jake Hanson at right guard, Royce Newman at right tackle and Tom on the bench. It will be interesting to see if the rotation changes at all when the Packers return to action on Sunday. Tom was really good against the 49ers. To be sure, he was up against some lesser players, but he put on a good game. He will face much bigger challenges during joint practices against the Saints this week.
"Big ups to our scouting department and finding him, especially when they got him," said Elgton Jenkins, who has served as Tom's mentor. "I definitely feel like he's one of those guys that can do it [play all five offensive line positions] and succeed at a high level in any position he desires. Obviously, some positions are maybe a little better than others, but with repetition and technique, he can do it."
Ultimately, the question is what is best for the team? Newman focusing at right guard, where he started 16 times as a rookie, and going with the rookie Tom at right tackle? Or make Hanson the first-time starter at right guard and push Newman to right tackle?
Round 5: No. 179 – Kingsley Enagbare, LB, South Carolina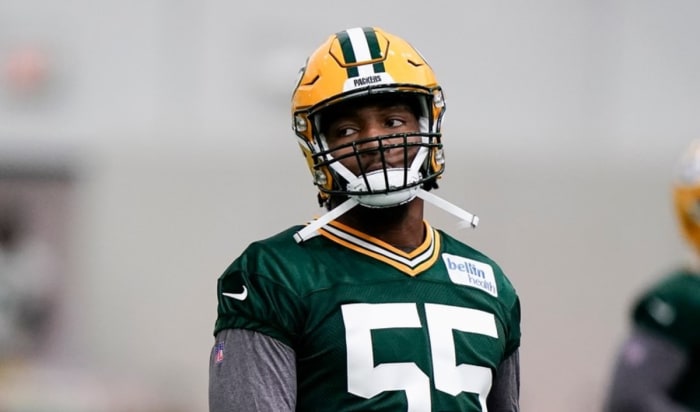 Against the 49ers, Enagbare had one sack, two quarterback hits and, according to Pro Football Focus, three pressures. Maybe that's an exaggeration, but he might not have had three pressures combined in training camp.
With La'Darius Hamilton (groin) inactive and Tipa Galeai (shoulder) sidelined, Enagbare played 45 snaps. His game reps were much better than his practice reps, and that should increase his chances of making the 53 and working his way into a role.
Round 7: No. 228 – Tariq Carpenter, S/LB, Georgia Tech
With his combination of size and speed, Carpenter is a prospect brimming with potential. However, he had fallen to the bottom of the depth chart at safety and was not a No. 1 on any of the special teams units. Perhaps Friday's performance will point him in the right direction. While he gave up a few short finishes, his open field shots were excellent. The player who can tackle in the open field should be a valuable contributor on special teams.
Round 7: No. 234 – Jonathan Ford, DT, Miami
In a stacked position group, Ford is battling with Jack Heflin and Chris Slayton to be the sixth-possible defensive player at 53. He wasn't as impactful as those more experienced players against the 49ers, but Ford contributed a couple of tackles. in 31 defenses. snaps.
Round 7: No. 249 – Rasheed Walker, OT, Penn State
Walker missed the start of camp with a foot injury and hasn't looked like a three-year Big Ten starter on the practice field. He was destroyed by La'Darius Hamilton in practice on Monday. Maybe he's not healthy enough to really compete. Walker was inactive Friday night. He has time, but it will be a long climb to earn a place in the 53.
Round 7: Nope. 258 – Samory Toure, WR, Nebraska
Packers have an immediate need for receivers. They also have a long-term need, with Allen Lazard, Sammy Watkins and Randall Cobb entering their final contract seasons. So Toure has a shot. He hasn't played as much as Doubs, but he's been a reliable, confident contributor throughout camp except for the two-minute sideline drill that drew the ire of the coaches on Wednesday. He caught 3-of-4 passes for 42 yards against the 49ers.
The best undrafted free agents
Danny Davis (all photos by USA Today Sports Images)
By the end of rookie camp, the Packers had signed 15 non-college free agents. Only 10 survived the first day of training camp.
Of those 10, who has the best chance to continue the team's 17-year streak with at least one undrafted rookie on the opening 53-man roster?
One: Jack Coco is the only tall player on the roster. That may not be the case for the rest of training camp, but he's the No. 1 right now, which puts him in a good spot. He didn't seem to have any problems with his pictures on Friday.
Two: In the race to be the No. 3, Patrick Taylor may be the most reliable player, but Tyler Goodson's explosiveness is unmatched.
Three: Offensive tackle Caleb Jones and receiver Danny Davis are long shots, but they're logical practice squad candidates who could be game-day picks. Jones' massive frame makes defenders move where they don't want to go. He provided a quality run blocking against the 49ers. Davis isn't big and he isn't particularly athletic, but he gets open and catches the ball. Those skills were evident on his 33-yard touchdown run, a high-quality play between Jordan Love and former Wisconsin tight end.