###
A crowd gathered under the Samoa Bridge near Halvorsen Park Saturday afternoon to enjoy food, local vendors and music in celebration of the latest set of murals to decorate our city as part of the fifth annual Eureka Street Art Festival.
Jenna Catsos, one of the organizers of the festival, said she is thrilled with how this year's murals turned out. She didn't have an idea yet of how many people attended today's party, but said it seemed like a great turnout and was excited that so many community members – vendors, volunteers and participants – made it to the event.
"I would call it a clear success, 100 percent," he told Catsos COMMUNICATIONS during the festival on Saturday afternoon. "There are many different ways to measure the success of an event like this, and one of them is putting murals on the wall. Check! A big festival event has so many moving parts, but…everyone came down here and heard about it somehow. So I would call it a huge success."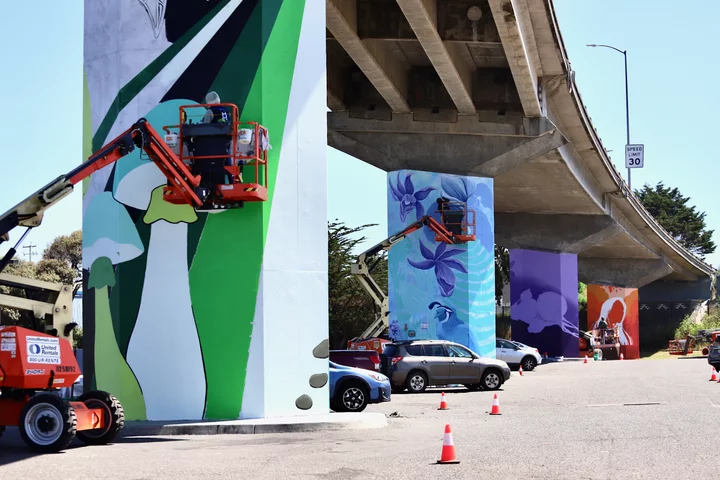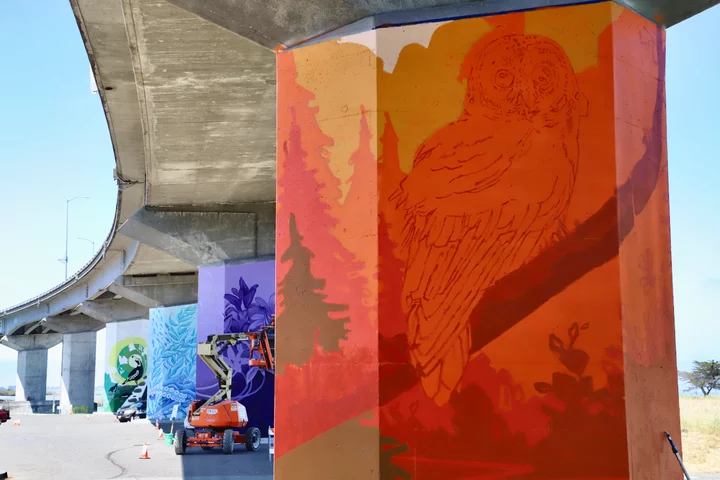 The Eureka Street Art Festival — a week-long event promoting public art — began in 2018, focusing on adding new murals to Old Town. Choosing a different location each year, the event has helped bring vibrant artwork to the downtown area, the Henderson Center and Fourth and Fifth Streets. This year the festival featured 11 different artists from around the country and focused on the north end of Eureka, bringing art to the Waterway, the 101 corridor and the end of the Samoa Bridge.
This year's location was suggested by the California Department of Transportation (CalTrans), which approached festival organizers with the idea of ​​decorating the Samoa Bridge, Catsos said. The organizers then selected several nearby walls and surfaces in the surrounding areas to connect to the bridge murals.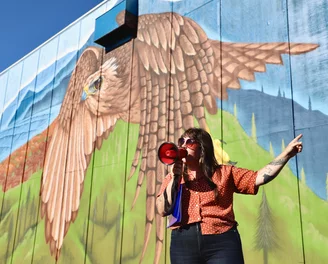 "I think this is the beginning of a tremendous relationship with Caltrans," said Catsos, adding that festival organizers and Caltrans will likely continue their partnership when selecting sites for future festivals.
The festival has continued throughout COVID-19, with the last two years including social distancing murals. But this is the first time since 2019 that the festival has included a block party event to celebrate the completion of the murals. Catsos said the team was a little rusty, but because the party is held in a different location each year, there are always new logistics to figure out. She was very excited about the event being held in such a unique location this year and hopes it will be the first of many outdoor events under the Samoa Bridge.
Catsos wanted to give a shout out to the other organizers – Swan Asbury, Economic Development Planner for the City of Eureka and Michelle Cartledge, owner of Humboldt Cider Company – who have helped this event grow and thrive. She also wanted to thank the community for their continued support of the Eureka Street Art Festival.
"When people come out for events, come out for art walks, show that they're excited on social media — that's why we keep going," Catsos told COMMUNICATIONS. "Invest your energy and excitement in the things you love in the community, because that's why they will continue."
If you're reading this post in time, the party under the bridge will continue until 6pm
Below: The post'Andrew Goff spent some time away from ESAF this week and was able to get photos of every participating artist this year. Get to know them now.
# # #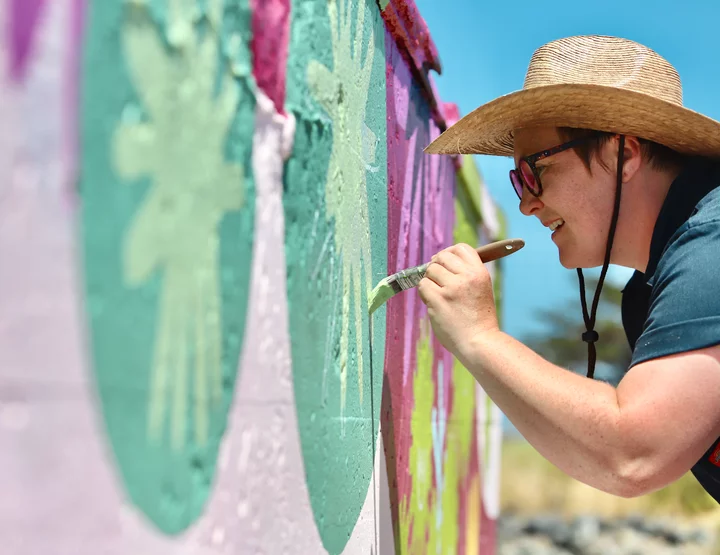 -TESS YINGER-
Eureka, California
"play"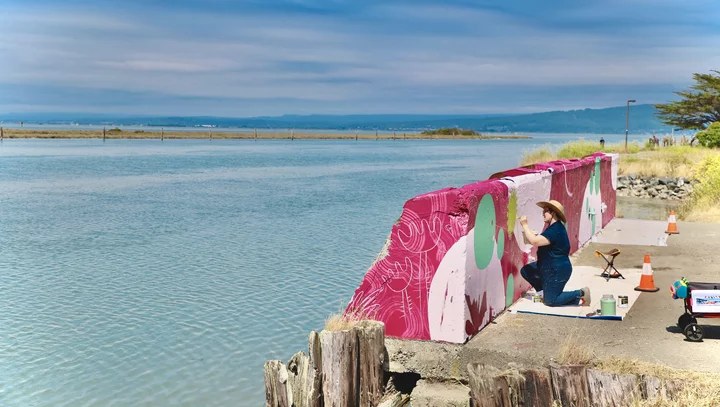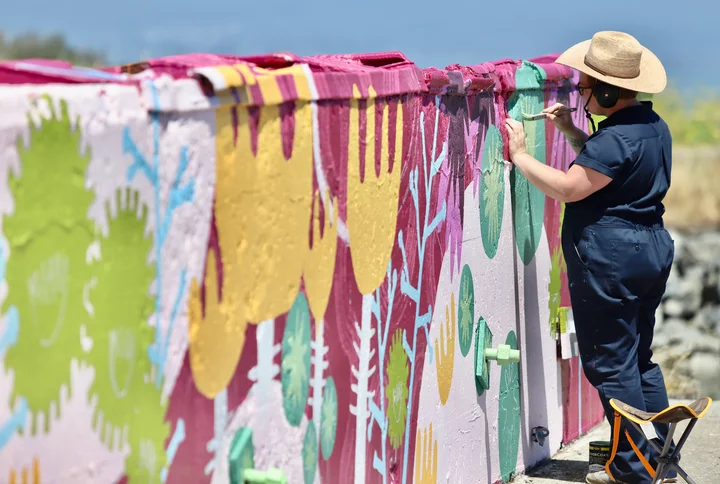 # # #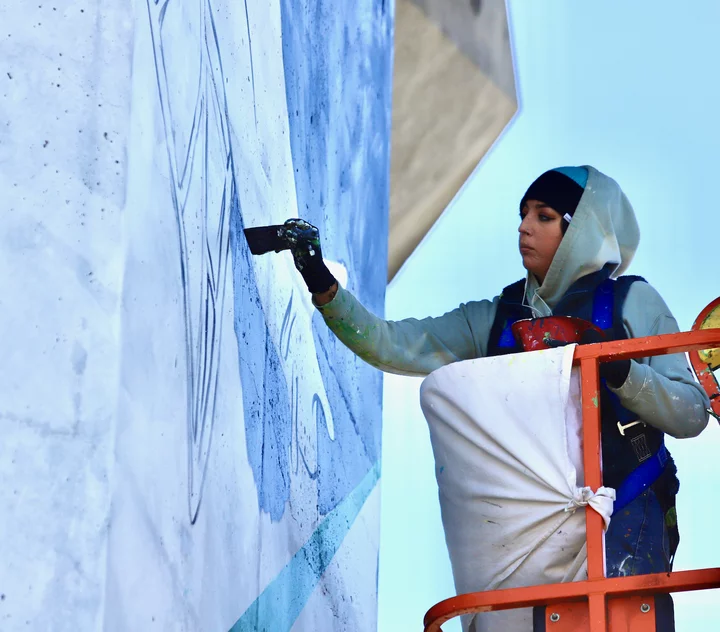 -JESSICA CHERRY-
Crescent City, California
"Err-Werh Son"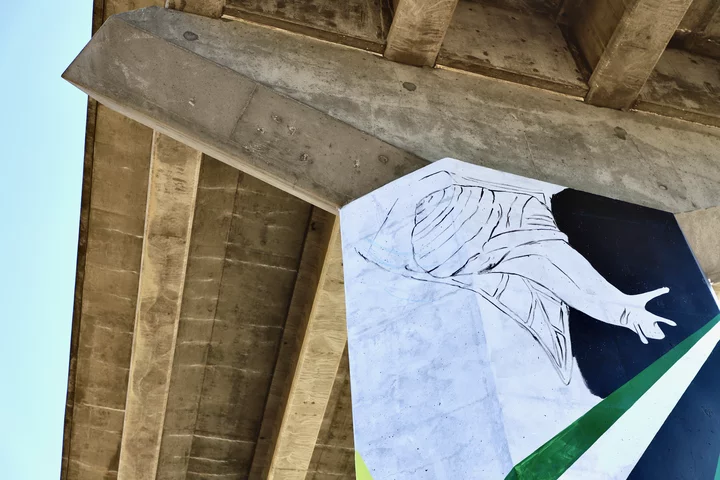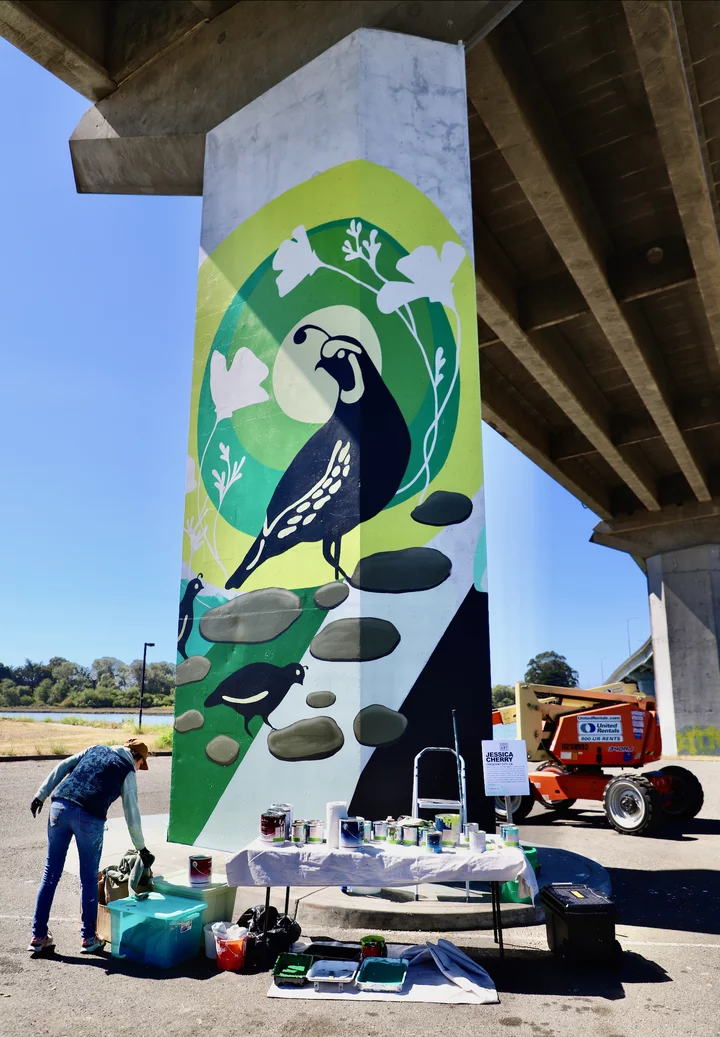 # # #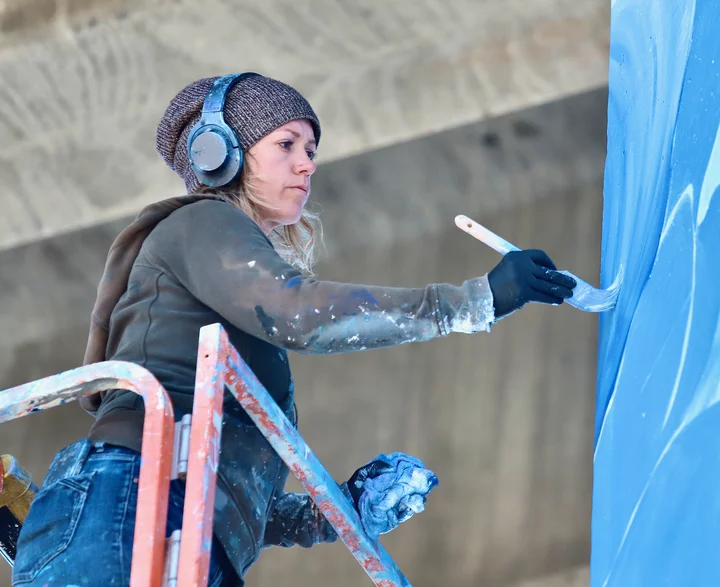 -LACI DANE-
Weott, California
"Surf and Turf"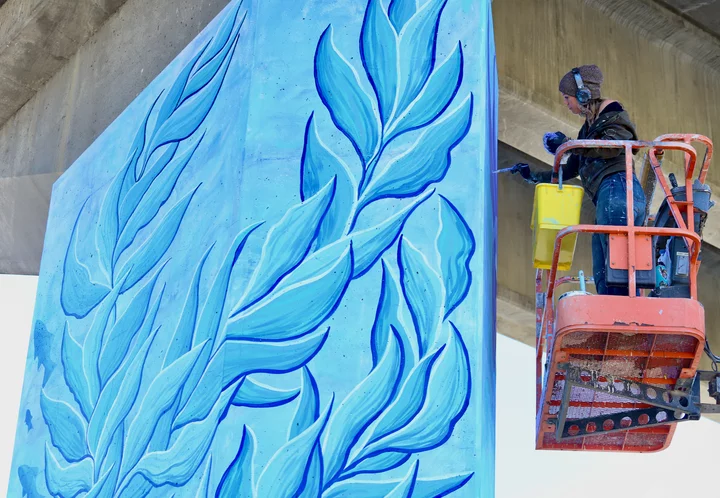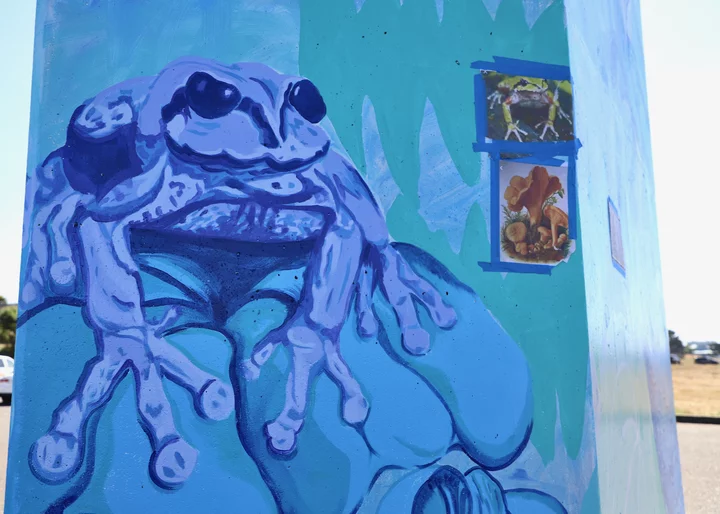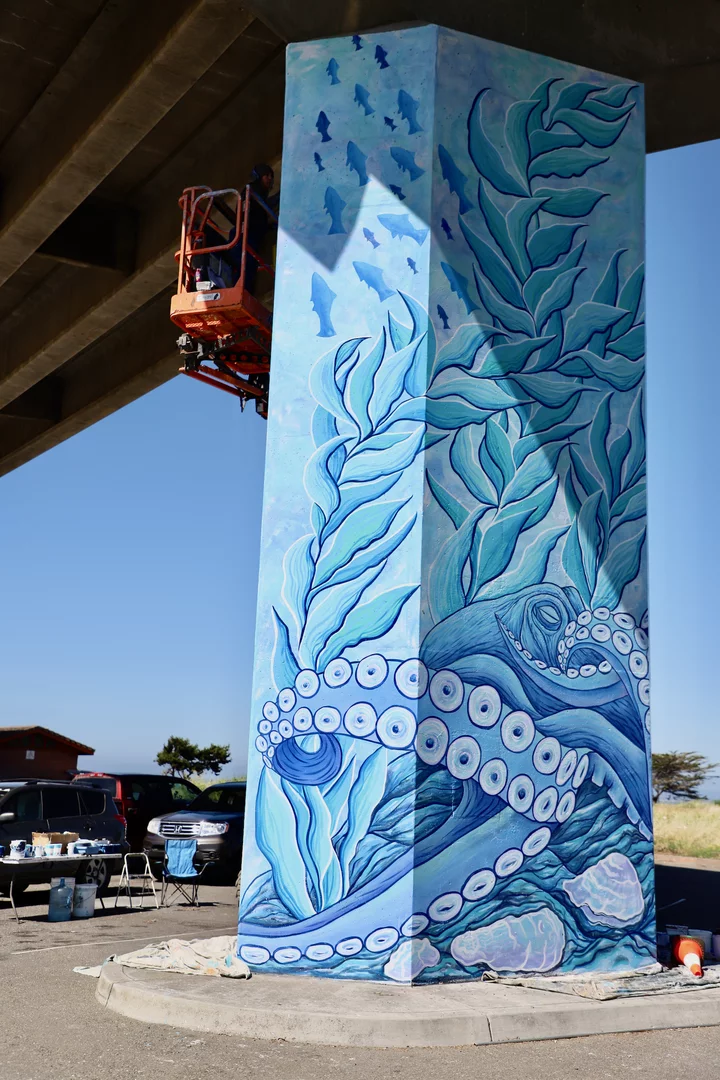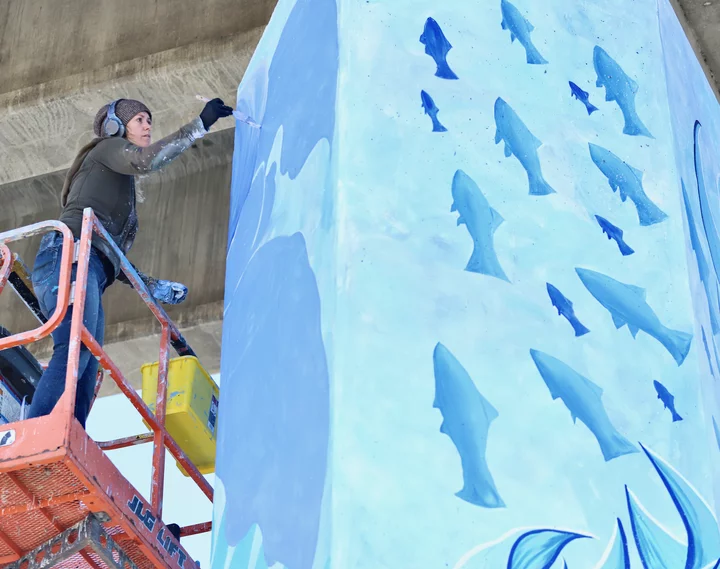 # # #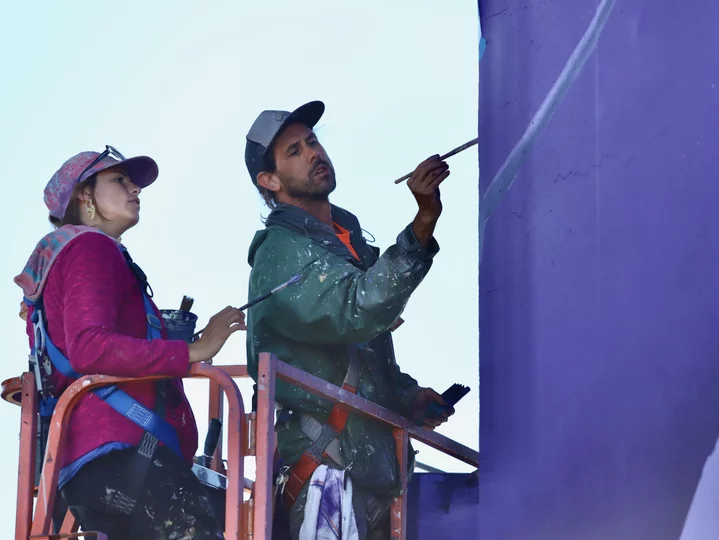 -KYLE SANDERS-
Eureka, California
"Boderuc"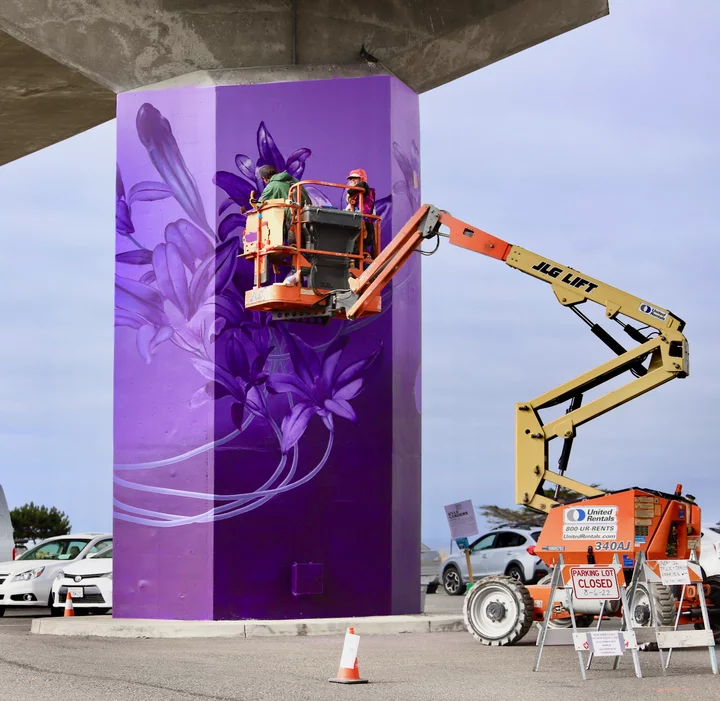 # # #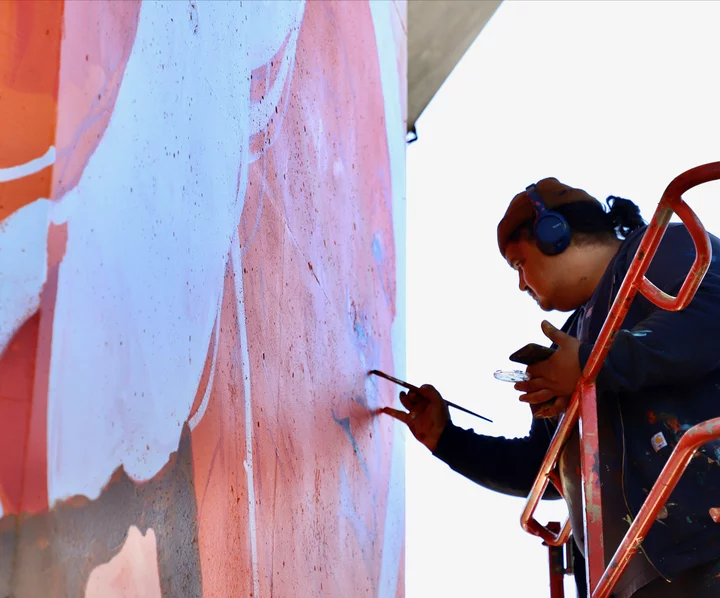 -JOHSUA THE LAWYER-
Santa Rosa, California.
"Falling Colors"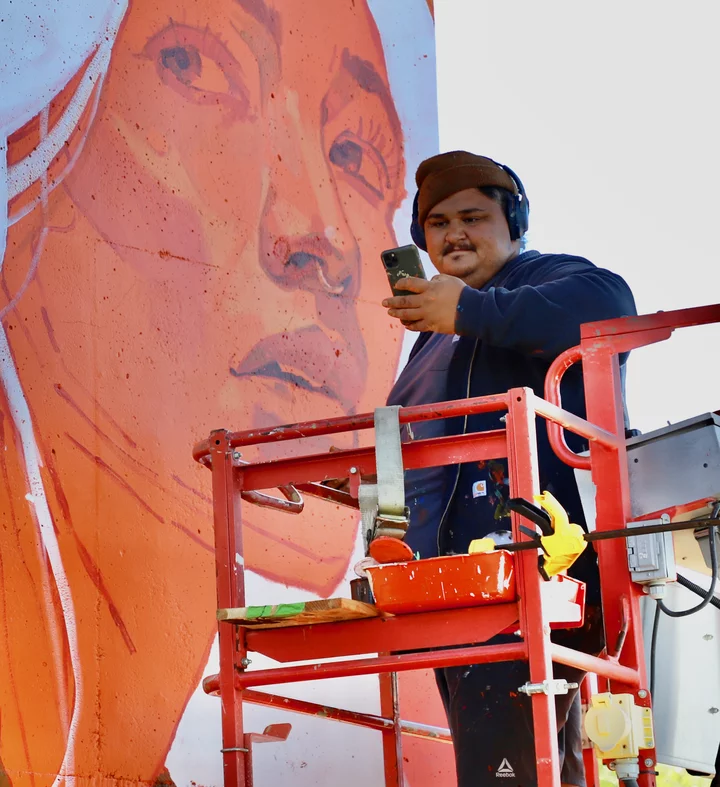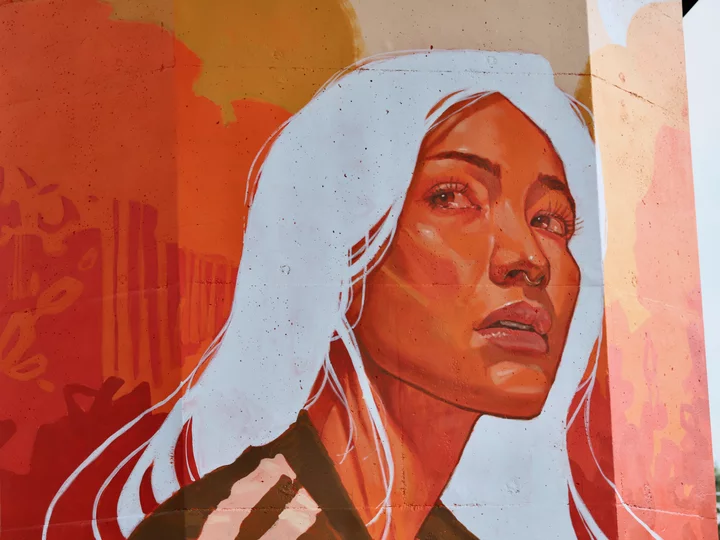 # # #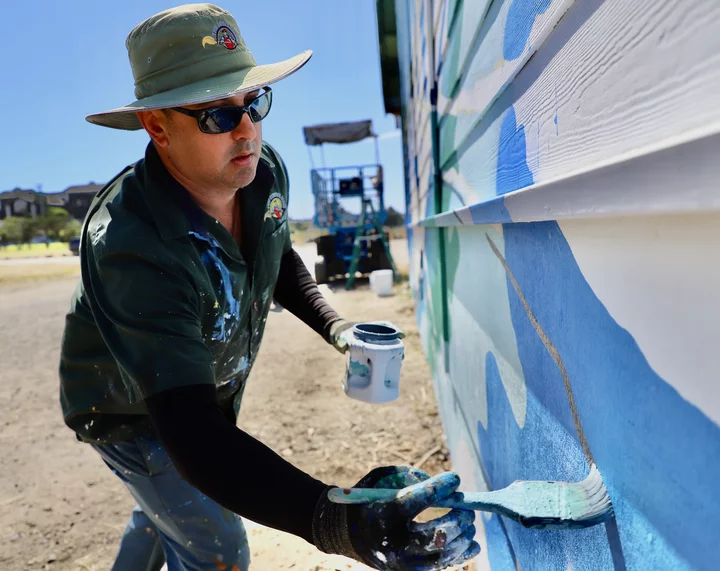 -BEN GOULART-
Bayside, California
"Paddleboard"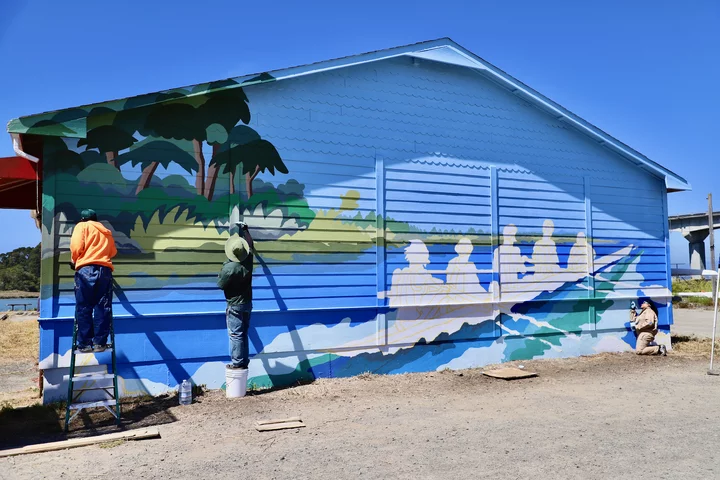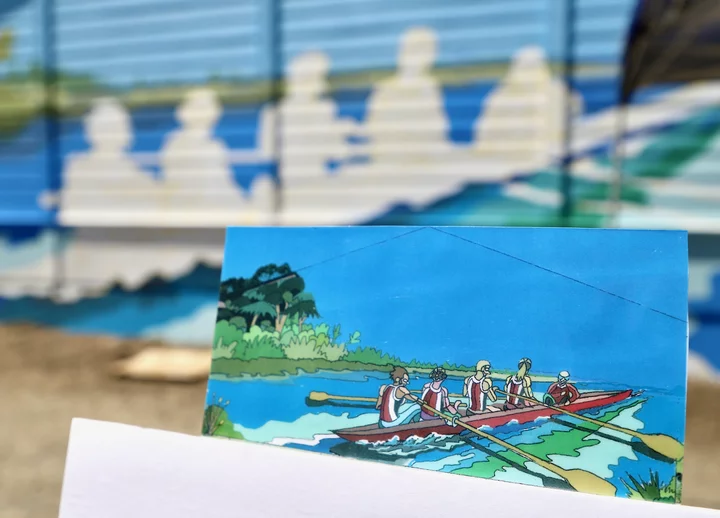 # # #
-JOSE MORENO-
Eureka, California
"Dee"
# # #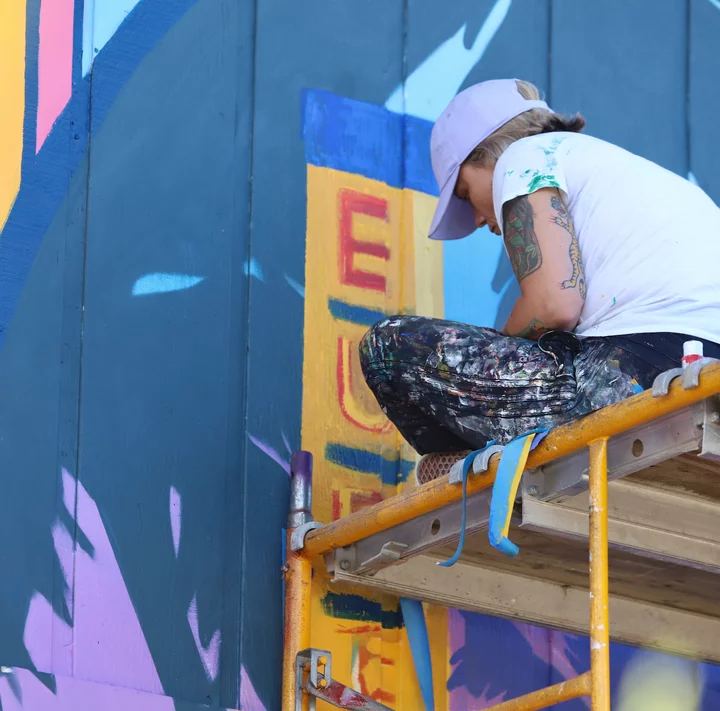 -GINA ELIZABETH FRANCO-
Greensboro, North Carolina
"View from the old town"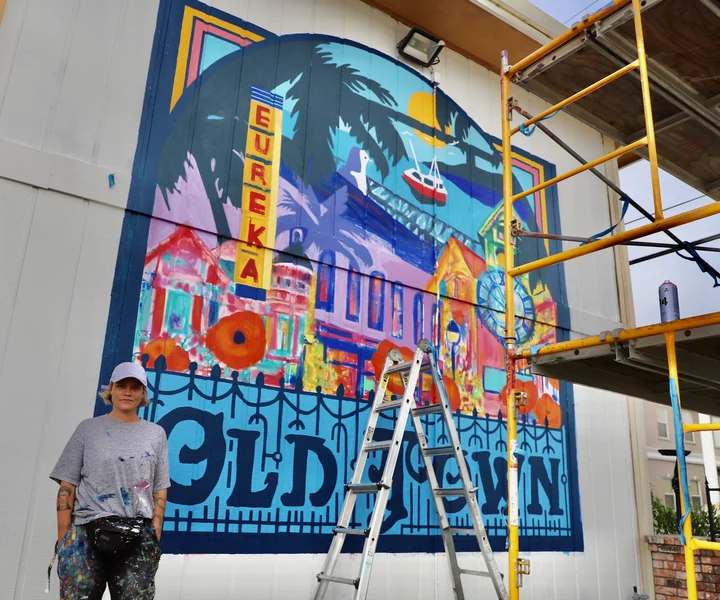 # # #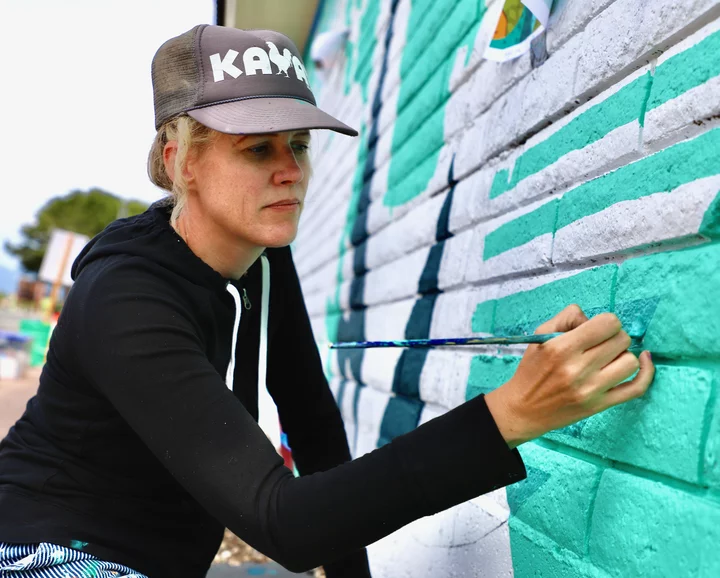 -L STAR-
Los Angeles, California
"The seeds plant us"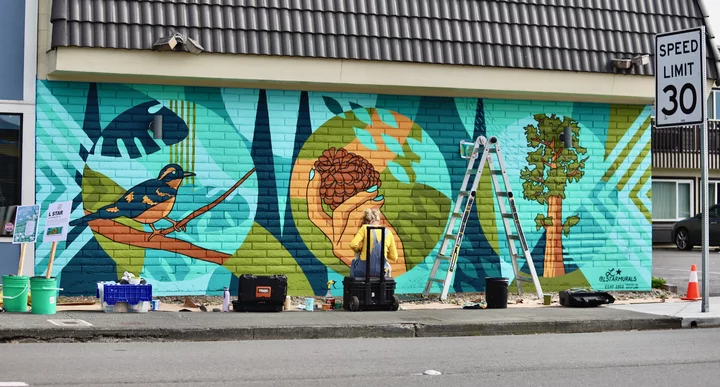 # # #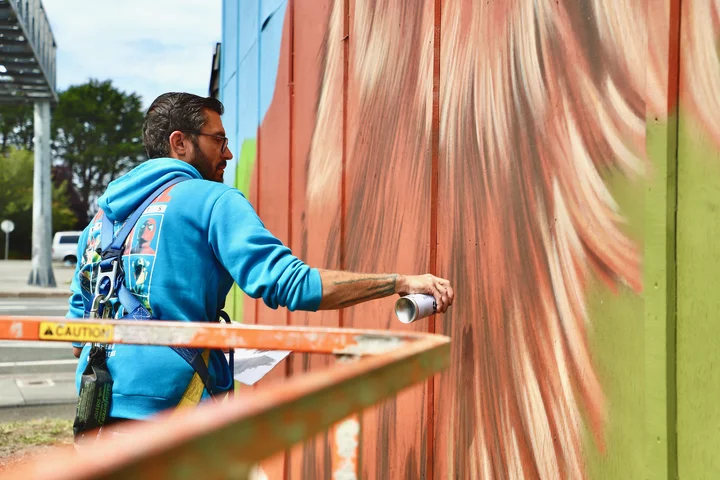 -JUSTIN SUAREZ-
Rochester, New York
"A Place for Earth"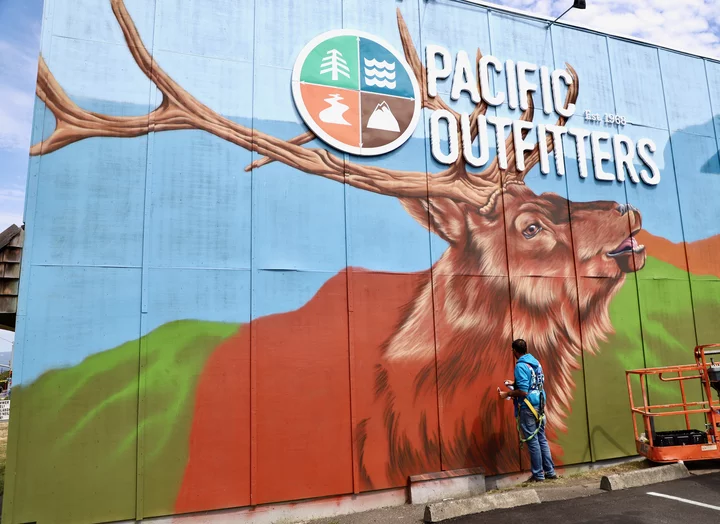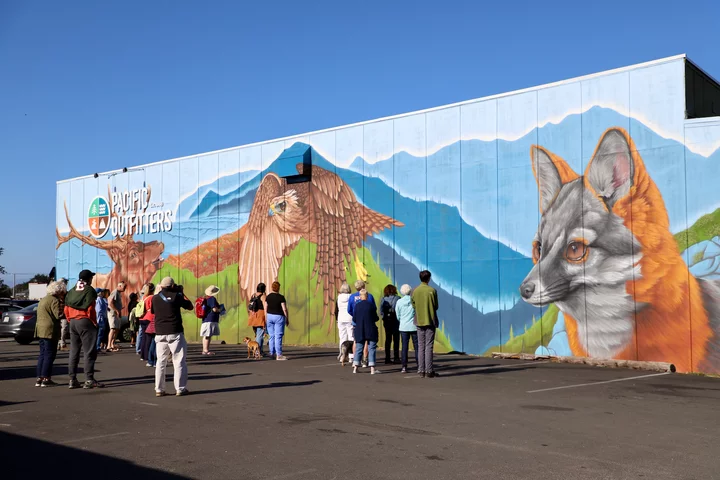 # # #
Need more wall images? Luckily for you, local AA Part 107 certified commercial drone pilot Chad Johnson took a trip to the Samoa Bridge Mural this week and passed along some great aerial footage he took. Fly through the colors with him below.