Anna Myer and Jay Paris strongly believe in the power of art to inspire change.
"Art is unifying, it makes us all connect on an emotional level and that's how change happens," said Mr. Paris in a telephone interview for the Gazette.
This belief led the couple to start Beheard.world in Boston in 2011. After separate careers at the intersection of art and activism, the couple launched the nonprofit, which uses filmmaking and live performance as a way to advance social justice. Mrs. Myer and Mr. Paris brought a group of 11 artists to the island last week for a film screening and performance of their work.
Beheard.world working through a rehearsal ahead of Saturday's show. – Jeanne Shepard
"There's a black and white culture here, which is interesting and we like to have mixed audiences," Ms Myer said of why they were drawn to the island.
The group consists of dancers, poets and singers. They hold down day jobs outside of Beheard, but make time for the company because they care deeply about its mission, Mr. Paris said.
"They could jump to almost any company in New England if they wanted to, but I think they choose this one because of the work we do. They all care deeply about this," said Mr. Paris.
Thursday night at the Tabernacle the group hosted a screening of Invisible Imprints, a documentary by Mr. Paris which follows the band as they stage a string of shows starting in Jackson, Miss. and ending in Chicago. The film explores America's racial history and provides insight into the performers' struggles with identity and race, Mr. Paris said.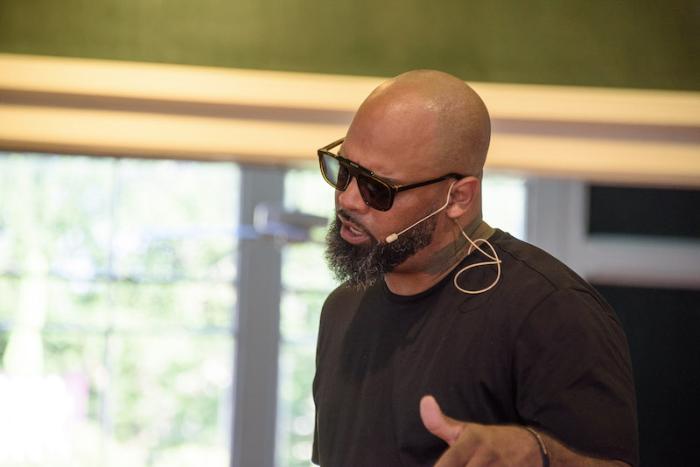 Singer and songwriter, Preacha Rhymes. – Jeanne Shepard
"They were meeting civil rights leaders whose stories weren't very well known and going to civil rights sites, museums and then, of course, performing," said Mr. Paris. "It was really seeing all of this through the eyes of these performers."
On Saturday evening at Union Chapel the group performed Suite Talk, a collection of dance, music and spoken word that explores the ways race manifests itself in American society.
Charles Murrell opened the performance by walking around the perimeter of the church playing a solemn rendition of Suite No. 1 for Cello by Johann Sebastian Bach. Mr Murrell welcomed everyone and informed the audience that the performance comes at the end of "the craziest week of his life". Mr. Murrell was attacked by members of the white supremacist hate group the Patriot Front during that group's march through downtown Boston days before July 4.
Mr Murrell – who suffered cuts to his hand and head from the attack that required stitches – said he is grateful to be surrounded by love and fellow artists, whom he calls family, as he processes the trauma.
Two days before July 4th, Charles Murrell was attacked in Boston by the white supremacist group, the Patriot Front. – Jeanne Shepard
"All it really takes is one person to make a difference in how you see something that you're going through, or how you think about what it is that you might be going through," Mr Murrell said at the performance.
Mr. Murrell's focus on healing rather than punishment also speaks to the company's mission, Mr. Paris said.
"For a guy like him, who can be so angry about it all, [to say] what I'm really interested in is how we come together," Mr. Paris said. "A big nod to Charles, but I think that's the ethos of the company."
The show tackles racism in America. The dance contains depictions of lynching and some of the poems deal with police brutality. But there is also an intimate duet. Another dance is set to a remix of This Land is Your Land. The point is to show that America is complicated, which means loving America as well, Ms. Myer said.
"There's a lot of violence going on…then there's this love duet that's about the intimacy of love and how we look after each other," Ms Myer said. "And then there's 'This land is your land… it's an old folk song, but it's everybody's land… everybody belongs here.'
After the performance, the audience had the opportunity to ask questions and share their reactions. Audience members asked about some of the technical choices and also expressed how profound they found the show.
"Our real aim with these things is to get people to feel and then talk," Ms Myer said. "Unless you make people feel that they are standing in their heads instead of speaking from their hearts."
To learn more about the organization and its mission, visit beheard.world.