MADISON (WKOW) – A 28-year-old woman got a new lease on life thanks to a double lung transplant she received at University Hospital after a 10-month medical ordeal.
Darlene Johnson of Rockford, Illinois, finally left the hospital last month and was able to fulfill the promise she made to herself.
"I had set a goal for myself that I would come home to celebrate my daughter's third birthday in July," Darlene said. "There were definitely some days when I didn't think I was going to make it, days when I'm sure no one thought I was going to make it. So walking out of the hospital with my husband by my side, after everything we'd been through, was really special."
Johnson's journey began in September 2021 when she and her husband Lincoln became ill with COVID-19. Her husband soon got better, but Darlene, who was 37 weeks pregnant at the time, only got sick.
On Sept. 15, she was admitted to UW Health's Swedish American Hospital in Rockford, and Darlene's doctors decided to deliver her baby three weeks early, hoping that would give her a better chance to fight off the infection. worsened in the lungs.
Unfortunately, after just one day with her new daughter Hazel, Darlene became very ill and was transferred to the hospital's intensive care unit.
Hazel was able to go home a few days later, and Lincoln stood in the hospital parking lot — their daughter in his arms — waving to Darlene, who was looking out the window.
Darlene said it was one of the last things she remembered from that time. She soon lost the ability to breathe on her own, and over the next few weeks, both of her lungs collapsed.
On October 26, a little over a month after it all began, the doctors told Lincoln that he and his daughters should come to say their goodbyes, as they were convinced she would not make it through the night.
This was the first time the Johnsons had been together since Hazel was born. Staff helped the family make keepsakes for the girls — the family's colorful handprints and a recording of Darlene's heartbeat.
They also took what Lincoln believed would be their first and last family photo together.
"This is not as it should be," said Lincoln. "We were supposed to grow old together, start our family and live our lives. The idea that I would have to raise our girls without Darlene broke me."
That night, friends and family held prayer vigils outside Darlene's hospital room and in her hometown, which Lincoln said lifted their spirits.
But Darlene made it through the night and even started to get better.
However, her condition began to deteriorate again, and again, Lincoln and their daughters came to the hospital to say their goodbyes. And again, Darlene made it through the night.
Even with these "miracles," doctors at Darlene and Lincoln, a third-year medical student, knew her lungs wouldn't last much longer.
But all the hospitals she contacted, both local and national, that could have made Darlene strong enough for a lung transplant, something she needed to live, turned her down.
All but UW Health in Madison.
Dr. Erin Lowery, transplant pulmonologist at UW Health, remembers the night she first heard about Darlene's case.
"I got home from work very late and got a voicemail from a doctor I knew in Rockford," Lowery said. "We were in the middle of a really busy COVID surge at the time, so these kinds of calls weren't necessarily that rare, but something about it intrigued me. Although it was too late, that night I called Darlene's husband and heard their family's story. I knew we had to help him."
Lowery consulted with her colleague, Dr. Dan McCarthy, cardiothoracic surgeon, UW Health, who by then had built a record and reputation for saving patients with the most severe cases of COVID-19. Together they decided to take her case and have Darlene flown to Madison via UW Health Med Flight.
"When we first met Darlene, I thought the chances of her getting through it were slim," McCarthy said. "To be honest, I think the odds were much more likely that she wouldn't make it."
Shortly after arriving at University Hospital, Darlene underwent extracorporeal membrane oxygenation, or ECMO, which managed Darlene's lung function while a team of UW Health doctors, nurses and specialists worked for the next four months to help her survive and to get strong enough for the lungs. transplant surgery and the subsequent challenging recovery that would follow.
"I had so many wonderful nurses, doctors and staff working with me while I was there," Darlene said. "I had to go through so much therapy just to get me strong enough to qualify for the transplant waiting list. I had to relearn how to sit, how to stand, how to walk, write and breathe. I had to relearn how to eat and swallow again. Everyone there was invested in my recovery."
After several months, Darlene finally qualified for one infectiologist transplant and surgery was scheduled for March 2022.
Darlene said she is extremely grateful to everyone who fought for her when she couldn't fight for herself, and she hopes her recovery will remind her of all the people who helped her survive — her family, friends, community of her faith and healthcare team – – that their work sends ripples out into the world.
"Words cannot describe how grateful I am to everyone who helped me, and that includes the donor and their family for making the decision to give a part of themselves to me," said Darlene. "Without them, I wouldn't be here today."
On July 13, 302 days after she was first admitted, Darlene emerged from her hospital room to find a hallway filled with caregivers who would know, care and love her.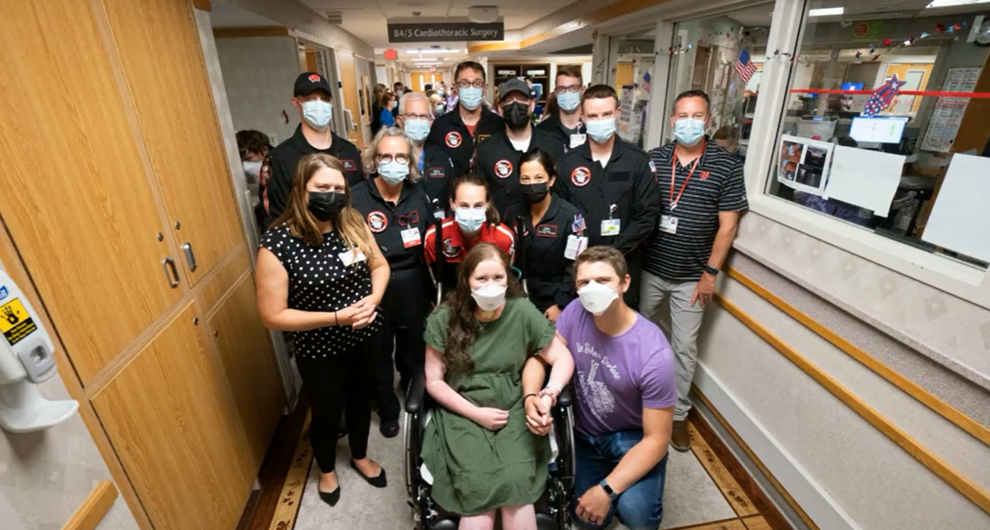 Darlene and Lincoln drove home together, where they were finally reunited with their two daughters, Josie and Hazel, three days ahead of the goal Darlene had finally set for herself.